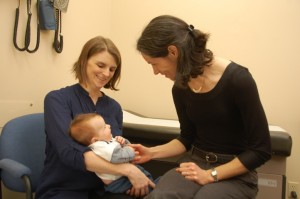 Ensuring your access to personalized care. Our innovative care model ensures that Dr. Millar, Dr. Moores, or Dr. Mir is on call for your delivery 24/7 except on some holidays (eg Christmas) where all three of us are away.  For those rare days when we are unavailable, doctors from our call group provide excellent coverage. We go the extra distance to organize your care so your baby will be delivered by a doctor you know, and who knows you. Although Dr. Millar, Dr. Moores, or Dr. Mir will be your primary care provider throughout your pregnancy, you will also have a few visits with the other doctors. That way you can establish a relationship with all three doctors before the big event.
Working with others to care for the whole person. We work hard to foster relationships with other care providers, including fellow specialists in obstetrics, nurses, doulas, midwives, lactation consultants, and your family doctor.
Pregnancy and delivery are natural aspects of human life, but nature is unpredictable. Through our training and experience we are able to recognize when the normal becomes abnormal. This allows us to act if necessary using appropriate medical interventions. Our main goal is always a healthy mom and baby. We want you to feel at the centre of the experience of giving birth and caring for your newborn, even if events go exactly as planned.
Supporting you in your choices. Each woman's experience of pregnancy and delivery is unique, and there are many safe and healthy ways to negotiate that experience. We promise to listen to your preferences, give expert advice, and guide and support your decisions.