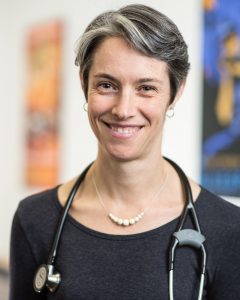 Dr. Daisy Moores has always had a passion for women's health and obstetrics. She followed this passion to a career as a pediatric nurse in the NWT, then to medical school, and finally to this practice, which she started in the fall of 2011. Based on a shared commitment to high-quality personalized medicine, she joined forces with Dr. David Millar and Dr. Colleen Mir to create a full-service family practice that specializes in providing mothers and babies with the best of care. Some of the high points of Daisy's career in medicine include:
Completing her medical degree at the University of Ottawa

Undertaking her residency in family medicine through The Ottawa Hospital, Civic Campus in 2008

Obtaining a fellowship in obstetrics in the fall of 2011

Lecturing at the University of Ottawa in the Faculty of Medicine and teaching in the resident and undergraduate program there

Being a staff physician at the Monarch Clinic, an innovative postpartum care model that provides medical care and lactation support to newborns and mothers

Serving as current Head of the Division of Maternal and Newborn Care at The Ottawa Hospital
Daisy brings considerable practical experience to the task of caring for babies and mothers. She is married and the mother of two fantastic (and busy!) twin boys. She received her Bachelor of Science in Nursing from McMaster University, and her work as a nurse in the North means that she is trained in people-centred medicine, focusing on the unique individuals who need medical care. Add to this her remarkable upbringing in a wooden boat shop, her prior life as a certified whitewater canoe instructor and northern river guide, and her secret wish to sail around the world someday and you get a well-rounded, approachable, and expert medical practitioner.
In her few private moments, Daisy loves to cross-country ski, and cycle-commutes whenever she is not on call. She strives to get outside with her family as much as possible, whether in the garden or on a canoe trip. She loves the tranquility that comes from being outside. Equally as much, she loves her work and feels privileged to get to participate in the building of families. Like David and Colleen, she finds herself smiling at the end of every day.