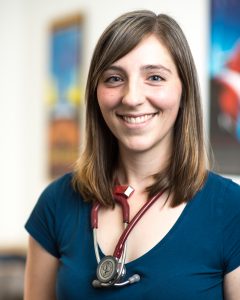 As the newest member to join the team, Dr. Colleen Mir brings a fresh energy to maternal and newborn care. After working with Dr. Millar and Dr. Moores as a resident at The Ottawa Hospital, she spent several years working in a variety of other obstetrical care offices. From the inner-city community-health centres to the family health teams of the east end, and from the Queensway to Civic to General hospitals, Dr. Mir has explored a variety of approaches to obstetrical and newborn care. If we look back even further, her professional journey has included:
Completion of her medical degree at McMaster University in Hamilton, where her passion for primary care obstetrics was first sparked;

Ongoing skills development during her residency in family medicine at the Civic campus of The Ottawa Hospital;

Working for several years providing low-risk obstetrical care to patients from Somerset West Community Health Centre and the Lancaster Family Health Team, delivering at the Civic and General campuses of The Ottawa Hospital;

Teaching new medical students in the University of Ottawa Faculty of Family Medicine, specifically on topics related to intrapartum care; and

Joining the team at the Monarch Centre, which follows an innovative postpartum care model that provides medical care and lactation support to newborns and mothers.
When her busy clinical practice allows, Colleen loves to canoe, hike, bike—anything to get some quiet time outside in Canada's stunning wilderness. She and her husband are working their way though Ontario's parks and are hoping to someday be able to say they've camped in each of the 13 provinces and territories. Within Ottawa, she's an avid runner and loves exploring the paths along the canal, beside the river, and through the Experimental Farm. She's grateful to be doing work she loves, and like Dave and Daisy, she always has a smile on her face.